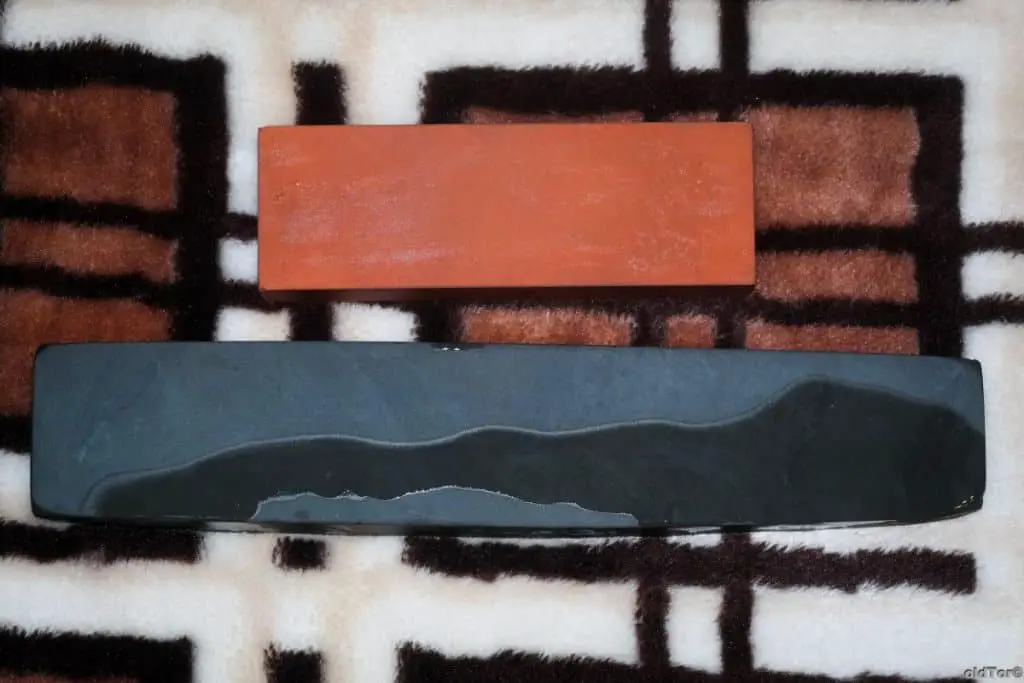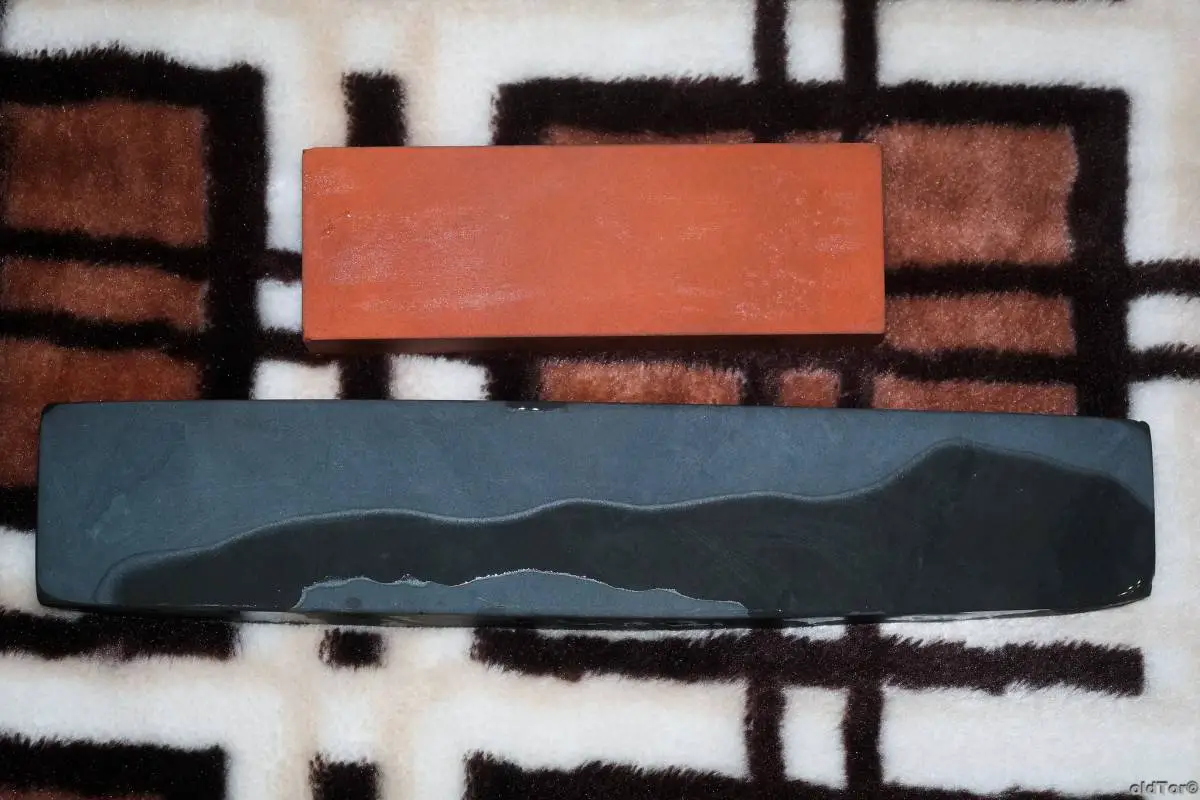 Sharpening stones, whetstones are water stones used for sharpening and grinding the steel-edged gears and tools.  Some of the items which could be sharpened by using this stone are scythes, scissors, razors, knives, and tools like plane blades, hand scrapers, and chisels.  The procedure of using the sharpening stone is known as stoning.
Such type of stones is found in a variety of sizes, material compositions, and shapes. They might be flat to work on those flat edges and shaped to take care of those complex designs like those which are associated with woodturning tools or wood carving. It may include man-made or natural quarried materials.
If You are in Harry here is the list of the sharpener that we listed down in details we recommend the second Sharpening Stone.
The Different Grades of Knife Sharpening Stones
Usually, stones are present in different grades, often referring to the particles' grit size within the stone. The material is found to be denser, with the grit being finer, thus leading to the tool surface having a finer finish. Finer grits are known to slowly cut since fewer materials are removed. Grits often are given as a number, to indicate particle density with a higher number, which denotes smaller particles and higher density.
Which sharpening stones are recommended for beginners?
It is necessary for every beginner to choose stones that can be suitable for practical use. The objective is to derive stones which could be utilized as the foundation for meeting future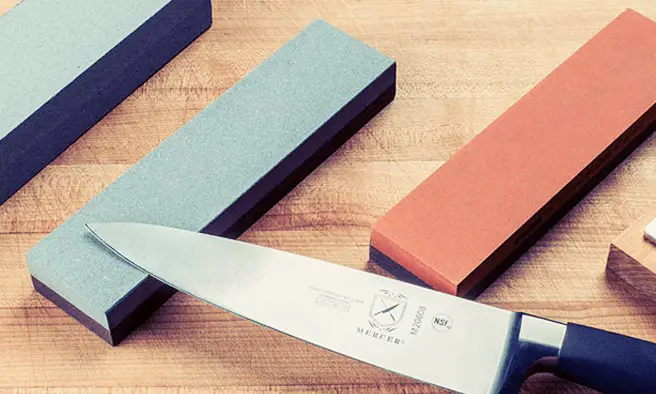 requirements. Since there are numerous options available, the inexpensive sharpener is likely to get bewildered.
The fact is, that there is no specific recommendation that can fit everyone's needs. The reason is that the needs of every sharpener are different and hence, different sharpening toolkit is to be used for the purpose. It is important to understand the individual requirements of the sharpener.
More than single grit
A coarse stone would be required which are stated to be the sharpening toolkit's foundation stones. It is possible to get better edge shape quickly. A finer stone is what is required. As the edge shape gets established, finer grits would be used for refining the edge for improving cut quality. How fine the stones are to be and the numbers required would depend on how fine the edge is needed.
Stones of the right size
The blade size and type that is being sharpened would determine the stone size required. A small stone is one of 6" size while 8" is a larger one while 10" – 12" is regarded to be generously sized. There are also stones which are lesser than 6" in size known as pocket used. These are generally used for tackle boxes, on-the-go sharpening, and toolboxes. But it is not used for regular jobs.
Versatile stones
Sharpening stones would be required that can be useful for most of the edges as well as be useful while expanding both the sharpening toolkit and tools. Duplicate stones would be just a waste of money.
Easy to use stones
Stones requiring cleaning, soaking and flattening frequently can be frustrating. When selecting the stone set, it is necessary to understand the willingness to perform regular maintenance.
Fitting the budget
There are present different types of sharpening stones that can fit the budget. Knowing the types can really help to make a well-informed selection.
Sharpening stones are generally three types. Each of them is known to come with its own features and benefits, assisting users to achieve their sharpening objectives.
Different types of Sharpening stones?
Sharpening stones are generally three types. Each of them is known to come with its own features and benefits, assisting users to achieve their sharpening objectives.
Diamond Stones:
It contains small diamonds which are attached to the metal plate face. Such small industrial diamonds can be termed to be much tougher when compared to other sharpening stones. But not every diamond stone is known to perform similar functions and is not created equal.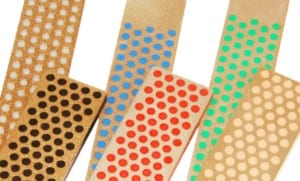 Diamond stone designs are of two types. The common style comprises of holes within the surface for capturing swarf. Such stones are simple to be used and cut quite fast. A continuous diamond surface is the other type. Such stones are better used if tools with points are sharpened that might get caught within the recesses of a non-continuous surface of the diamond. One can derive both the types in polycrystalline and monocrystalline diamonds form. The latter is much desirable since they have the ability to last longer.
Using diamond stones do come with double benefits like flatness which is retained by it and fast sharpening. Soften extra coarse stones of this type are used for water stones or flatten oil. But it is expensive and can offer long-term benefits.
Water Stones:
These are considered to be relatively new, however, it managed to gather a huge following because of its offering several advantages. When compared to oil stones, these are available easily in synthetic and natural materials. However, synthetic types are available much easily. Aluminum Oxide is used for creating synthetic water stones. Such kind of stones are stated to be much softer and promotes faster cutting since there is a break away from the old abrasive material in whose place, the fresh sharp material gets replaced.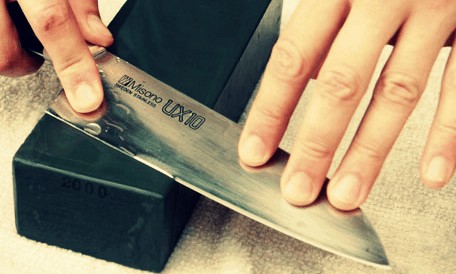 One of the significant benefits derived is fast cutting while the other benefit is to use water, not oil for eliminating swarf (Metal Filing) from stone. But water stone is not regarded to be perfect since fast cutting that is promoted by softness wears down the stone quickly, his tends to wear the stone unevenly, requiring flattening for having the stone brought back to shape.
Oil Stones
These are considered to be traditional stones which majority of the people are said to have grown up using it. One of the three materials like Silicon Carbide, Aluminum Oxide or Novaculite is used for creating this type of stone. For scarf removal (metal filing), oil is used. The traditional oil stones created from Novaculite are actually natural stones. Such stones are segmented related to thickness and finish which is produced on the blade by the stone, into different grades. Washita is termed to be the coarsest of them all. Since it is quite soft, this type is not much in use. The natural oil stones have the ability to produce polished edge, however, can cut slowly when compared to man-made stones.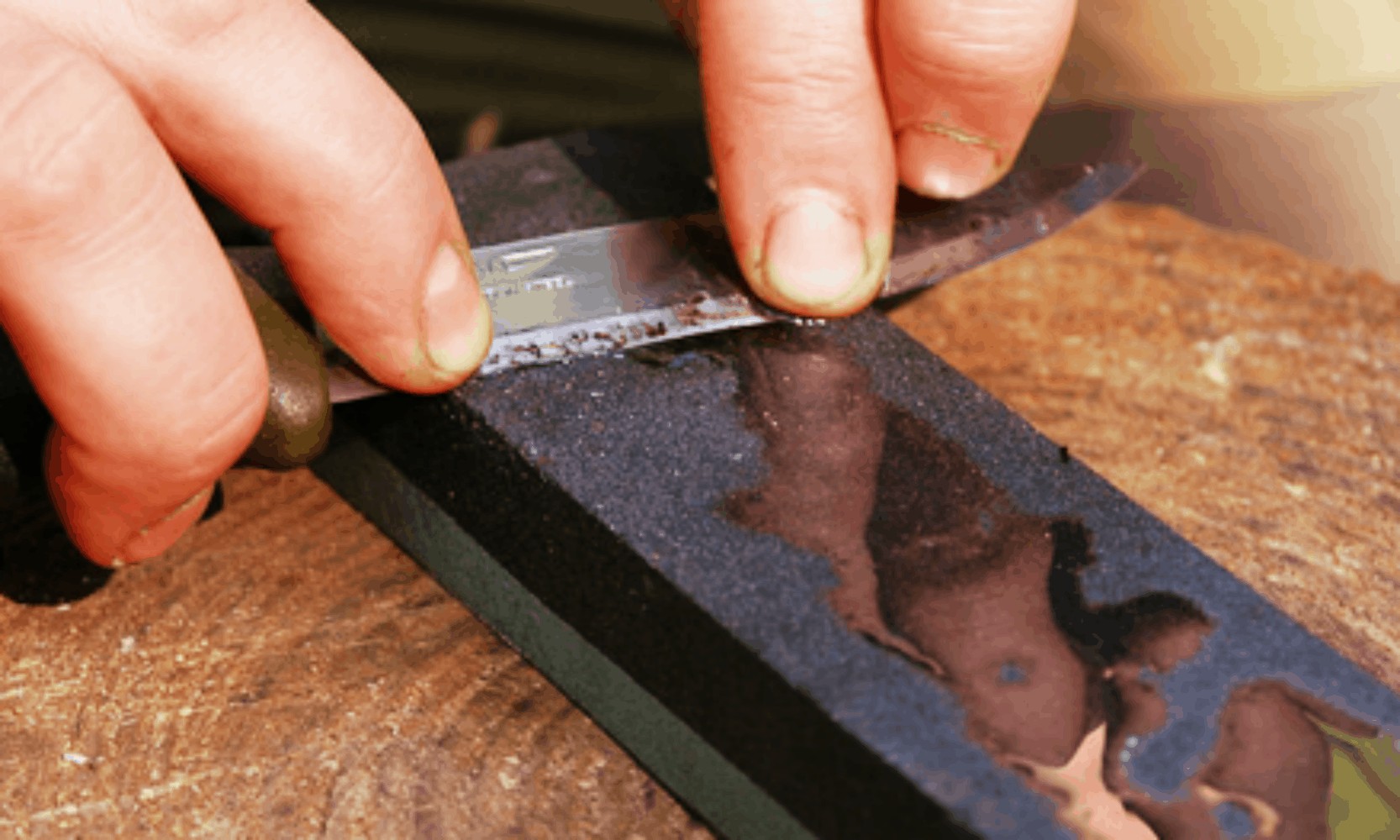 When the popular man-made choice for oil stone, then Aluminum Oxide type of oil stones are to be taken into consideration. India Stone created by Norton is supposed to be the most popular one since they have the ability to cut fast while helping the knives and tools to produce a much finer edge. The stone's grading system is labelled usually coarse, medium and fine. The colour of such stones often is orange or brown. Aluminum Oxide stones are much coarse.
The oil stones that are stated to be the fastest cutting compose of Silicon Carbide. Such stones are known as Crystolon Stones. They are also labelled as coarse, medium and fine. Usually, their colour is grey. Although these stones may not produce a fine edge, the fast cutting ability is what tends to make them quite suitable for the beginning coarse sharpening. As they get quickly sharpened, using Coarse Crystolon has become a common practice.
The greatest asset of oil stone is its low price and overall performance. Also, they are cost-effective when it comes to price. Of the three stone types available in the market, oil stones are regarded to come with a major disadvantage which is its slow rate of cutting. Moreover, oil is required to be used for eliminating the swarf, which can become more messier at the time of cleaning, when compared to water.
The Best Way to use your sharpening stones
There are many who are not aware of the importance of sharpening knives until the kitchen tool is noticed to be no longer sharp. Nothing is said to impact the knives durability or their regular performance, much more than regular maintenance and sharpening. What one has to understand is that a dull knife could be seen to be potentially dangerous when compared to the sharp ones. Therefore, regular maintenance and sharpening are necessary. everyone needs to know how sharpening stones used, including the right maintenance techniques.
How can you Prepare your stone for sharpening?
A sharpening stone is used for sharpening tools. It is regarded to be an effective technique practised commonly for any ages. Regardless of having an India stone or crystal, oil stone or water stone, subsequent sharpening and actual preparation are quite familiar! The steps given below are to be followed for ensuring efficient and safe sharpening.
1. The stone needs to be placed on a damp towel or cloth. They are to be kept on the flat surface to prevent towel and stone from sliding when sharpening.
2. The stone's coarse side on top is to be started with since it is an effective and fast way of having the knife blade back into the appropriate shape.
3. The stone is to be lubricated. Few stones may use water or oil. Recommended lubricant is to be used. Whichever lubricant is selected, after the first use, it is not to be changed. While making use of oils, approved ones for sharpening stones are only to be used. One should avoid using food oils like olive and vegetable oil. Diamond stones would not require any kind of lubricant.
4. For applying lubricant, a small line of water or oil is to be poured on the stone's middle. The water or oil is to be spread and massaged gently and evenly across the sharpening stone. It is now ready for sharpening!
Best Sharpening Stone In The Market Right Now
A better way to having the kitchen knives prepared for proper use is to Choose the right kind of sharpening stones. Several types are present in the market to choose from. Browsing through them comparing their cost, durability and performance are likely to help the person to make the right selection.
This kit costs under 14$, for which the shopper can derive two sharpening stones of different types, premium Honing solution and stone mount. It is termed to come at an affordable price and offers excellent performance. Both experts and beginners may use it without any hassle.
It is the popularly sold sharpening stone enjoying excellent customer reviews and ratings. This 2-side stone is known to come with combination grit of 6000 and 1000. It is regarded by users as a durable product, having fabulous features.
It is a wonderful product that is said to be accompanied by one year warranty. The shopper can select between the 2 sides, which have grit surfaces of either 150 or 240. It is cost-effective and its block measures about 6" x 2" x 1".
The user can avail the option to have grit sides of 1000 or 400 using this product. The special material coating is used on the stone. According to its manufacturer, its blade is polished with water.
It is considered to be a 2 sided water stone, which could be utilized for a variety of tools, besides knives. This stone has been regarded to be quite ideal for those who have a passion for camping or fishing and would like their instruments in perfect shape and sharpened. Manufactured in Japan, this product is reasonably priced and durable.
This stone is termed to be another fabulous creation of the Japanese manufacturers. The stone sharpener has been regarded to be somewhere around 200# – 1000# grits while coming with a compact size. This stone can be kept just about anywhere.
Different stones are included in this package ranging in particle sizes measuring 180# – 2000#. It offers the user with great versatility. Each stone comes with a dimension of 5.8"* 0.78" * 0.2".
In conclusion, the above are few of the sharpening stone products that have made a name for itself in the market and are being favoured by shoppers for their kitchen.
All that can be said is that not everyone understands how to use Stone knife sharpener as others do it the wrong way and end up messing up everything. To ensure that you are attentive to what you are doing to sharpen the edges correctly and also to avoid accidents. the stone knife sharpener is the best for jungle journey and kitchen. This is because you can easily wipe off the burrs or even use water to wash it. It is your duty as clients to choose wisely and buy a suitable sharpener that matches your budget.