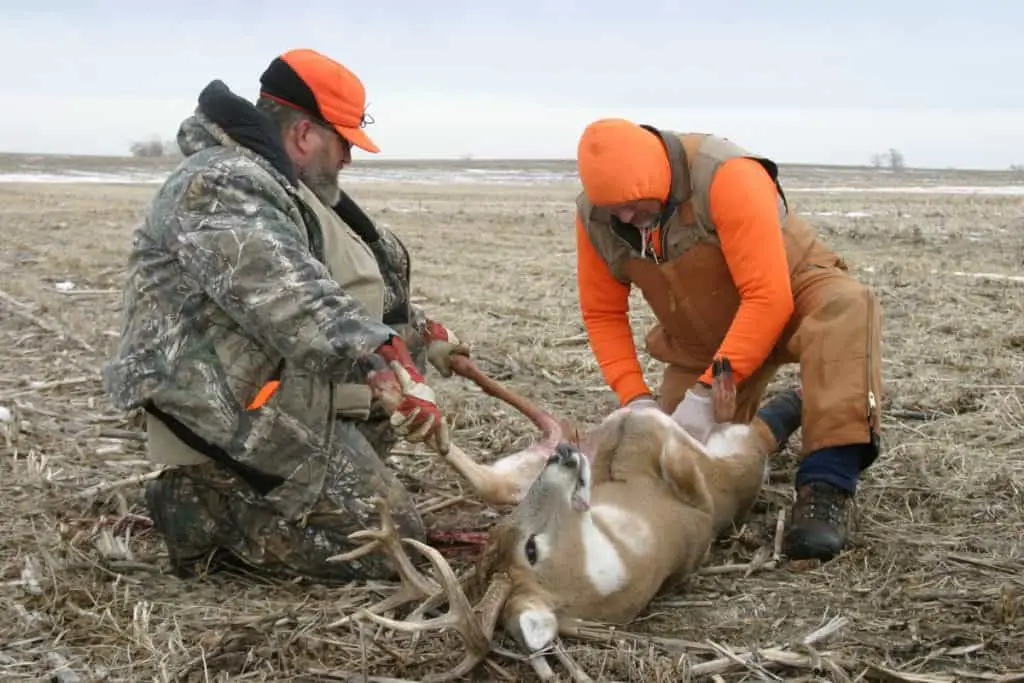 One type of knife that we have to talk about is the skinning knife. Skinning knives are one of the oldest knives around. Ever since prehistoric times, people have been using these knives to skin their hunt.
Today, skinning knives are still one of the most widely used. That's why there are dozens of different skinning blades and brands in the market. All of this is great, but it can make things confusing for someone looking to get their first skinning knife. What blade should they get?
If you find yourself in this situation, you've come to the right place. Today, we're going to take an in-depth look at skinning knives, what they are, and what makes a good one. I'm also going to share with you some skinning knives which, in my opinion, are the best ones available.
So without further adieu, let's get started.
In this article, we're going to review the following Best Skinning Knives:
Best Skinning Knife
Outdoor Edge RazorBlaze, RB-20, 3.5" Replaceable Blade Folding Hunting Knife, Non-Slip Rubberized TPR Handle, Mossy Oak Nylon Sheath (Blaze Orange)
Gerber Moment Field Dress Kit I [31-002218]
Outdoor Edge Swingblade Double Blade Hunting Knife with Rotating Skinning & Gutting Blades, Nylon Sheath, (Black, SB-10N)
Buck Knives 0103BRS Skinner Cocobola Dymondwood Fixed Blade Knife with Genuine Leather Sheath
Benchmade - Saddle Mountain Skinner 15001-2 Knife, Drop-Point, Stabilized Wood Handle
What Are Skinning Knives For?
Before we get into what makes a good skinning knife, it's important to know what exactly these knives are for. Skinning knives don't belong in the kitchen, not usually anyway. Instead, they are built for the field.
If you go hunting, having a skinning knife around is absolutely necessary. Without one, you are going to have a very hard time skinning your kill. Skinning knives are designed specifically for this task.
If you try to skin using other knives, there are a lot of troubles you may run into. There's a big chance that you'll puncture an organ, or get rough cuts on the meat and skin of the animal. That's why when it comes to this, you need to use only the right tool.
Skinning knives will ensure that your skinning will be easy, smooth, and perfect. You will have no waste, and you'll also get an intact hide that you can use.
Of course, skinning knives are also quite versatile. They can slice and cut almost anything. This makes them great to bring with you whenever you go hunting or camping.
What Makes a Good Skinning Knife?
Now you know what skinning knives are for, how do you choose a good one? Because there are so many skinning knives today, some of them are plain terrible. This is why knowing what makes a good skinning knife is very important. This way, you can be sure your first skinning knife will be a good one.
When you're going to get a skinning knife, you should look at:
The Thickness
The first thing you want to look at is how thick the knife is. When it comes to skinning knives, you want one that has a thin blade.
It isn't hard to understand why. When you're skinning, you're trying to split the skin of the animal from the rest of the carcass. This means that you have to cut through a pretty tight space. A thin blade will be able to get in there a lot easier than a thick one will.
The Belly
One of the most important things in skinning knives is their belly. Because these knives are for slicing, a big belly will help a lot.
In case you didn't know yet, the belly of a knife is its curve. A knife that has a completely straight edge is said to have no belly. While a knife that has a big curve is said to have a big belly.
The belly of a knife gives its edge more surface area. This makes the task of slicing a lot better and easier. This is why for skinning knives, big bellies are what you want.
The Gut Hook
Or rather, whether there is a gut hook or not. You can get a great skinning knife without having a gut hook. But this little tool at the tip of your skinning knife can help a lot.
The gut hook is that little hook you see on the tip of some blade spines. With a gut hook in your knife, you'll have a very easy time gutting animals. Place the hook in a small cut, and pull it upwards in a zipper-like motion. This can split the skin without damaging the muscles inside.
As said before, you don't need a gut hook. Having one around will come in handy though.
The Strength
Everyone wants a strong knife. When it comes to skinning knives, this is even more important. You absolutely do not want a skinning knife that can't hold its own.
This is why you should look for things that make the knife stronger, such as full tangs. With a full tang, you can be sure that your knife will be very sturdy.
Considering that skinning knives have thin blades, you'll want it to be as strong as possible. The skin of carcasses can be very tough at times. If you use a weak blade, there's a big chance it'll break when you try skinning.
The Brand
One piece of advice I always give people looking for their first knives is to look at the brand. It's great if you can see the knife in person before you purchase it, but a lot of us buy online nowadays. When you buy from a reputable brand, you can be sure that it'll be a good knife.
The Looks
Last but not least, the looks. As a knife collector, I'm very picky when it comes to looks. There are even times when I sacrifice functionality for looks.
Now I'm not saying that you should do this too. What I'm saying is that you want a knife that is attractive to you. Knives are more than just tools, they are also beautiful pieces of art. You want to wield a knife that you can be proud of.
So whether you prefer rugged or sleek looks, choose a skinning knife that makes your eyes happy.
What makes a good skinning knife? Things to Consider When Choosing a Skinning Knife
When you look for those things in a skinning knife, you will end up with a good one. That said, there is also a difference between having a good skinning knife and the perfect one.
There are a lot of good skinning knives. But if you want to get the perfect one, you have to consider what you're going to use it for. This way, you can get one that will fit your needs perfectly.
Aside from the 6 things that make a good skinning knife, you should also consider:
The Size
Not the thickness, nor the belly, but the size of the whole knife. Skinning knives come in all sizes, from really small to quite large. The right size will depend on what you plan on hunting.
If you're going to hunt small prey, a large knife won't do very well. Because it's so big and your carcass is small, there's a risk that you'll cut yourself while skinning. On the flip side, you shouldn't use a small knife for big animals. Try skinning a deer with a tiny knife, it'll take you forever.
That's why knowing what you want to use it for is important. With this in mind, you can choose the perfect size.
The Point
Good skinning knives also come in a variety of points. The most common are the drop point, clip point, and trailing point.
There are some carcasses that are easier for the skin than others. Animals such as deer have to hide that it is quite easy to peel off. You only need to poke at the membranes sticking the skin and muscles to separate them. This is why drop point and clip point blades work best for these.
For harder carcasses such as wild boar, a trailing point knife will work better. The increased surface area makes it easier for you to slice through these quickly.
Folded or Fixed
There are some skinning knives that have fixed blades, while others can be folded. In a strict sense, fixed blades are better for skinning. This is because they are stronger.
Folding knives are also very strong, but they can never be as strong as fixed blades. However, there will be times when folded blades are better. These are the times when convenience is more important than strength.
If you bring your skinning knife wherever you go, you'll find a folding one much better. If you need maximum strength, fixed blades will do the trick.
The Steel
Finally, you also have to consider the steel of the knife. The priority is to get a steel that is very strong and sharp. Remember, the blade should be thin, so if the steel is weak, it'll break when you use it.
When it comes to skinning steel, there are two main options: high-carbon and stainless steel. High-carbon steel is stronger and sharper, while stainless steel resists rust and corrosion better. As I've said before, the stronger the better. But you do not want your knives getting rusted, so if you're in a wet environment choose stainless steel.
These are the things you should consider to get the perfect skinning knife. As you can see, it really depends on what you are going to use it for.
My Recommendations
By now, you should have a good idea of how to choose a skinning knife. If you're still confused, let me help you out. I'm going to list five of my favorite skinning knives in the market today.
OUTDOOR EDGE RazorBlaze
Outdoor Edge's Razorblade is a great portable skinning knife to have around. It is small, easy to carry, and comes with its own nylon case as well.
Its blade is Japanese stainless steel and comes with 5 replacements. Whenever your blade goes dull, it is super easy to change it to a razor-sharp one. This way, you never have to worry about sharpening when you're out in the wild.
The blade is thin, and the knife is foldable. But it is also super strong because of the black oxide blade holder it has. This holds the blade in place and adds extra strength.
Pros:
5 replacement blades
No need to sharpen in the wild
Small and very easy to bring along
Cons:
Not the strongest blade
No gut hook
---
Gerber Moment Field Dress Kit I
The great thing about getting Gerber's Moment Field Dress Kit is that it comes with two blades. Both of these blades are full-tang stainless steel. This makes them very strong and resistant to damage.
The first blade is bigger, and it has a gut hook on it. This is what you will use for most of the skinning. The second blade is smaller and is perfect for detailed slicing.
Plus, Gerber is a huge name in the knife world. So even if you don't see the knife, you can rest assured that it is high-quality.
Pros:
Comes with two knives
Full tang
Gut hook tool
Cons:
Two knives may be a hassle
---
Outdoor Edge Swingblade
One of the most unique skinning knives to have is Outdoor Edge's Swingblade. At first glance, it looks like an ordinary foldable knife. Once you close it though, you realize that it has two blades in one!
The blade is a nice drop-point stainless steel blade. But what sets this knife aside from the others is its second blade. When you fold your Swingblade, it will active the second knife which can be used as a gut hook.
This allows you to use your Swingblade for so many things when you're out hunting. You won't have to bring a lot of knives with you, just this one.
Pros:
Two blades in one knife
Unique design
Very versatile
Cons:
Some risk of cutting while switching blade
---
Buck Knives 0103 Skinner
Buck Knives is another big name in the world of hunting knives. They consistently produce some of the best quality skinning knives in the market. One of these is the 0103 Skinner.
This knife has a large belly, making slicing off skin super easy. It's full tang construction also makes it super strong. It doesn't matter what you're hunting, this knife will skin it with ease.
Also, the 0103 Skinner looks absolutely amazing. It has a classic wooden hilt that makes it so pleasing for the eyes.
Pros:
High-quality build
Super strong knife
Beautiful wooden hilt
Cons:
---
Benchmade Saddle Mountain Skinner
Last but not least, the Saddle Mountain Skinner by Benchmade. This knife is very simple, there's nothing fancy about it. Nonetheless, it is one of the best at its job. Of all the knives I listed, this one is my favorite.
The blade is stainless steel, and it is also full tang. This is why you don't have to worry about corrosion, plus you don't have to worry about strength either.
It may be simple, but this doesn't mean it isn't beautiful. The Saddle Mountain Skinner also has a wooden hilt that gives it a wonderful rustic look and feel.
Pros:
One of the best skinning knives in the market
Super strong and durable
Simple yet elegant
Cons:
---
Conclusion
Skinning knives are a pleasure to have around. If you get a good one, it will never let you down. So keep these tips in mind when you're looking for a skinning knife, and you're sure to end up with the perfect one!